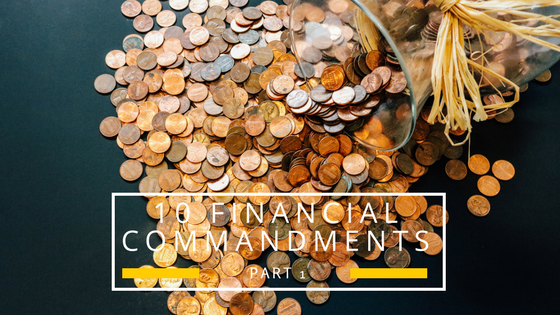 SCRIPTURE: MATTHEW 25:14-19
14"For the kingdom of heaven is like a man traveling to a far country, who called his own servants and delivered his goods to them. 15And to one he gave five talents, to another two, and to another one, to each according to his own ability; and immediately he went on a journey. 16Then he who had received the five talents went and traded with them, and made another five talents. 17And likewise he who had received two gained two more also. 18But he who had received one went and dug in the ground, and hid his lord's money. 19After a long time the lord of those servants came and settled accounts with them.
Jesus utilized parables to help change the culture and the mindset of the people especially the disciples in that day. This parable helps us to understand how we don't utilize money to benefit us (in addition to how we don't utilize our gifts and talents that God has blessed us with).
It's very interesting that the individual with the five talents went immediately to improving the goods the master left him with. The guy with the two talents did the exact same thing. But why didn't the guy with the one talent follow the other two? The main question I had was, "Why didn't he ask them what did to get what they have?"
With that question in my mind is how I started researching financial principles that have helped individuals to become successful and it's called the 10 Financial Commandments. There are various variations to the points but I you will get this. I will give you 3 this week, 3 the following and end with the last 4.
Financial Commandment 1
Thou shall honor the Lord first
Proverbs 3:9 Honor God with everything you own; give him the first and the best. (MSG) Matthew 6:33 Seek ye first the kingdom of God and His righteousness, and all these things shall be added to you.
From financial commandment number 1 we can see that it's not just about keeping God first in your finances but it's also about keeping God first in all areas of your lives. When we get in the habit of putting God first in every area of our lives it won't be so hard to put him first in your finances. I challenge you and God challenges you to put him first and watch him bless you according to Malachi 3:10
Financial Commandment 2
Thou shall not try to get happiness through material items.
Proverbs 27:20 Hell[a] and Destruction[b] are never full; So the eyes of man are never satisfied.
We have to be careful not to look to things to bring us happiness. The thing about material things is it brings a temporary feeling of happiness. It brings a false idea that you will be happy. Rich and poor people fall in the trap of thinking things will bring us happiness. When you get one thing then you feel like you need more. When we say, "I just have to have a pair of shoes, or this dress, or this suit," it doesn't stop there because then we start thinking we have to compliment it with something and then we don't feel complete until we have that thing. There isn't anything wrong with what we call "looking good". But there is something wrong when we think the outfit makes us instead of recognizing that we make the outfit.
Financial Commandment 3
Thou shall not be unthankful for whatever standard of living the Lord has provided you
1 Thessalonians 5:16-18 Be cheerful no matter what; pray all the time; thank God no matter what happens. This is the way God wants you who belong to Christ Jesus to live.
Now, here's something you may not know; it's a fact, whenever people choose to follow Jesus—their standard of living always goes up. There's a reason for that; people drop bad habits that steal their joy, their peace, and money. Then they start managing their money better—and God's blessing takes care of the rest.
Which is what the person with the 1 talent seemed to forget. He didn't pay attention to the fact that the others lives increased by trusting the giver of the talents. When we are ungrateful with what we have we think life is unfair so we don't utilize what we have and we bury it and say, "I want what they have". When it comes to your gifts, finances, and talents don't be mad at what you have utilize it and be grateful and watch God bless you.
To be continued…..