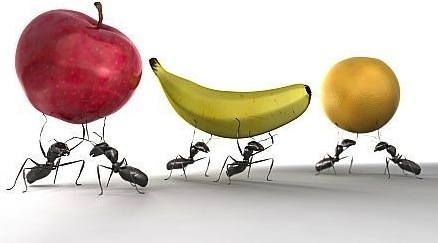 Have you ever attempted to achieve a goal and no matter how hard you tried or how often you tried your thoughts talked you out of achieving that goal? The problem might not be the goals you are setting, the problem could be A.N.T'S nibbling away at your confidence. You might be asking, "What do I mean by A.N.TS?". The kinds of ants I'm talking about is not the ones you see crawling along the ground. I'm talking about those Automatic Negative Thoughts that keep invading your mind.
Many Christians have great intentions but as soon as they convince themselves to do the will of God those negatives negative thoughts pop up. Those automatic negative thoughts are small, sneaky, and travel in packs just like the ants people see in their backyard or occasionally in their homes. If we don't spray our spiritual raid (Word of God) to get rid of those ants we will be stuck in the same place and quite possibly never reach the goals we believe God has given us.
In the book of Joshua chapter 1 God kept telling Joshua to have courage and to be brave. By saying this to Joshua, God was in essence reminding him to cast down those negative thoughts in order to reach the promise land. As you go through the remainder of the year be sure to use the spiritual raid (Word of God) to keep out negative thoughts. God has a promise land for you to reach and its time to go get it.