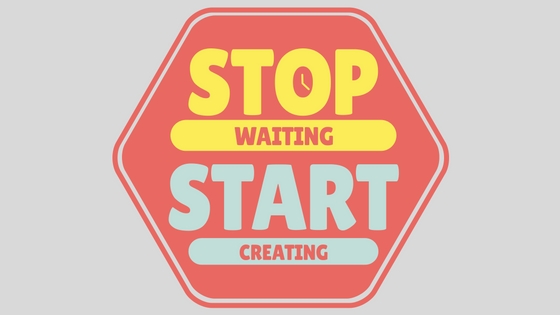 The Courage to Create
The word "create" is a verb that is defined as to bring (something) into existence or cause (something) to happen as a result of one's actions: When you think about the word create it should remind you of things that was created over the years having an impact on how we live our lives today. Madam C.J. Walker invented hair care products for the African American community in the early 1900's. The Wright Brothers are credited with inventing, building, and flying the world's first successful airplane. When we think of current inventors we can think about Reid Hoffman who created LinkedIn that would allow business professionals to connect and network. We also have H.J. Russell who created one of the top construction company in the world for African Americans. Lastly we can think about the creator of the Spanx, Sara Blakely who revolutionized the pantyhose.
As I pondered these inventors and the things they created it gave me the opportunity to recognize all of us posses the ability to create things. When a person creates something it is usually made to be utilized and not just to be admired. At times we as Christians spend more time admiring than we do activating and creating the life God wants us to have. We need to start activating the gifts and talents that God placed on the inside of us to bring our dreams to manifestation. Let me explain, we might not create an invention that impacts the world, however, I do believe we can create an environment/atmosphere that will help us impact the lives of those around us.
When we read Genesis chapter one we learn how the world was created in seven days. We can create the life we believe God has called us to possess by working on a specific area based on the way the world was created. God made each day with a purpose. The First day - God created the heavens and the earth (which means God created an environment that keeps us surrounded). The first day of the week we must create an environment that keeps us surrounded and that creation is our family. We must create and constantly work on our family and if we do that our lives will be better. Family will surround us and protect us during the good times and the bad times.
The Second day - God creates the sky (God creates an environment that we can look up too). The second day of the week we must create an environment that we can look up to and respect. That environment represents mentors or people we admire and can see from time to time. Mentors will help us get a perspective that's higher than the level we are currently on. Work on your relationship with your mentor to create the environment you desire.
The Third day - God creates dry land (God create an environment that we can stand on). On this day we must be willing to create and environment to where we can stand firm and that environment is the word of God. When we use the Word of God to create a firm foundation no matter what comes our way we will be able to stand strong. We might get sway from left to right however we will not bend, break, or be uprooted. Work on your relationship with the Word of God on this day.
The Fourth day - God creates all the stars and heavenly bodies (God creates an environment that allows us to standout especially at night). On this day we must create and continually work on our purpose and calling. Our purpose and calling is what allows us to stand out from other people but also allows us to shine during the darkest hours. Trust the calling God placed on the inside of you and work on it constantly.
The Fifth day - God creates all life that lives in the water (create an environment that supplies our physical needs) eating properly & exercise. On the day that God creates the things in the water it made me think of items we eat and the value/importance of eating properly and exercising. Too often as Christians we either get so busy with enjoying life that we just ask God to bless the (mess) food that we are eating without realizing we have the ability to say, this isn't good for me to eat on a routine basis. On top of that we are not exercising to combat our bad eating. I believe as Christians we should be a good example of proper (not perfect) eating and good exercising habits.
The Six day - God creates all the creatures that live on dry land (God creates an environment that we can get along with) friends/coworkers. On this day we must be willing to create an environment to where we have people around us that we get along with. The bible says in 1 John 4:20 "If a man say, I love God, and hateth his brother, he is a liar: for he that loveth not his brother whom he hath seen, how can he love God whom he hath not seen?" We have to have others on this earth we get along with and can create a bond with on this journey of life. We must constantly work on our friendships outside of the church.
The Seventh day - God rests is the final thing he does because he wasn't tired he was finished creating everything he needed to create. Once God finished wit his work he took a break and we must be willing to work/create and balance it off with rest. When a person is working this hard they should be tired on the seventh day.
Take time to create the life God has desired for you by working on these items one at a time. Once you have taken to a day to work on a specific one soon it will become easy to work on each of them or most of them throughout the day. Its time to create
Live Courageously