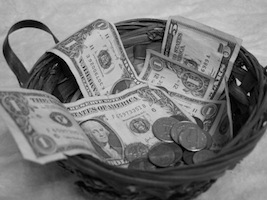 Do you remember an infomercial for the Hair Club for men?
James Whitman looked into the camera and said, "I'm not just the President of the company…I'm a user."
I'm blessed to be the pastor of Courageous Worship Church. I really am. But I'm not just the pastor. Courageous is my church. I'm a member there and I enjoy the fellowship I have with the membership.
We're a growing church looking to impact not just the city of Atlanta but the world as well. The young people of Courageous have a Sunday school teacher. And I financially support my church.
I don't just pastor the church – I support the church by giving at least 10% of my income every month. Here are three reasons Natasha and I do this.
We want to be an example to our son. Let's face it – we're living in pretty selfish times. We don't have to teach kids how to be selfish. They just figure that out on their own! So we want to be a counter-cultural example to our son as well as other followers of Christ. Generosity is more than an attitude – it's an action. We want everyone to know that we don't just feel generous, but that we actually give.
We believe in our mission. We believe we are called to "creatively teach and demonstrate the Word of God to inspire men, women, and children to live Courageous for Jesus Christ" is important and is our duty. Those aren't just words on a website – they are a rally cry worthy of my attention.
We want to make a difference. When we give to Courageous, we are making a dent in eternity. You don't have to be an insider to know that donations make a difference. Most churches strive to give back to their local community. Courageous uses part of their donations to help feed the homeless, give back to our membership, as well as meet the needs across the world. Courageous believes in giving back.
Those are just three reasons Natasha and I give to Courageous. I'd love to invite you to do the same. In fact, I'd love to encourage you to do what we do to ensure your local church. So if you are a tither then we salute you, if you are not a tither and belong to a local church then please pray that you will some help your church financially impact their local community and even the world.
Live Courageously
A. J. Freeman, Jr.